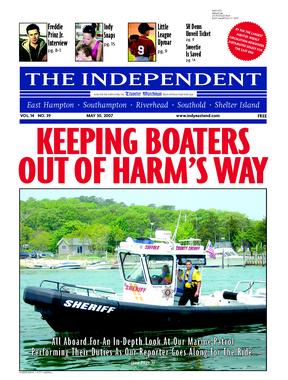 The Marine unit consists of eight part time Deputies, three full time deputies and one Sergeant, trained and certified through the N.Y.S. marine patrol and D.C.J.S., operating a 28' ridged hull aluminum "Almar" patrol rescue boat powered by twin 200 hp Honda four stroke engines. The boat is equipped with radar, gps, multi band radio, medical and rescue equipment, is based out of the Meschutt Co. Marina in Hampton bays and can be easily transported when needed by float on trailer and four wheel drive vehicle. In 2006 the Marine Unit expanded to include a five person, fully certified, public safety underwater S.C.U.B.A. dive team.
The primary activity of the Sheriff's Office Marine Unit has been the assistance of persons in distress in the marine environment including swimmers disabled boats, persons falling overboard, boating accidents, medical emergencies, boating safety, enforcement of the maritime navigation laws, and patrol of the waterways of eastern Suffolk County including approximately 348 miles of shoreline.
During the 2007 season the Marine Unit has conducted over 429 patrols, successfully handled or assisted in 20 search and rescue calls, investigated and reported on 4 boating accidents, 11 medical and other emergencies, assisted lost boaters o 4 occasions, conducted over 106 boating inspections, and has enforced the navigation law on over 106 incidents issuing 62 summonses, 42 warnings and arresting 2 individuals for boating while intoxicated.
The Marine Unit has also been called upon to assist other associated marine agencies and has conducted joint safety, and search and rescue operations with the United States Coast Guard, Department of Environmental Conservation, local East End Town and Village Police, Harbormasters, and Bay Constables and plays an integral role in protecting Homeland Security assets.
*See the Photo Gallery for Marine Unit photos*